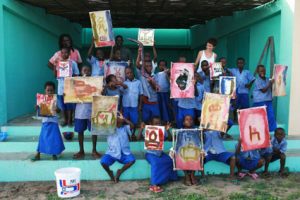 The workshop with children of the primary school took place during two days.
The first day we teached them the importance of recycling materials for the nature. We went to pick up some of those materials and showed the children the place in the nature where they could find natural pigments, colors.
The second day we show the children how to mix primary colors. Late we separate them in two groups, one did a snake from recycling materials and the other group painted.
Work together with Victor Amoussou and children of the primary school. April 2008, Villa karo residency, Grand Popo, Benin, Africa