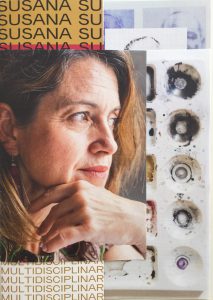 I am a Finnish nationalized Spanish artist. I am interested in cultures, language, religion, identity, social and economic inequality and issues related to the environment.
In some of my works there are religious allusions, my cultural past in a Catholic society has made me question not only this but many others that I have investigated in my stays in artistic residencies around the world (Benin, India, Mexico, Germany, Finland).
I explore the different solutions for the use of space through installations, works in public spaces, series of paintings or murals. Creative interaction and activity in areas of innovation interest me, therefore, I collaborate with artists and local people to achieve a plural artistic dialogue and I investigate new fields of interaction between the arts, ephemeral works, multimedia and new technologies.
Ecology, ethics and everything related to climate change worries me. I use Eco-sustainable materials, in my works I deal with issues related to these theme and I try to create work in a sustainable way preserving the environment, as well as, I emphasize this issue in my work as a teacher at the Faculty of Fine Arts.
I have been a professor of Fine Arts at the Polytechnic University of Turku (Finland) since 2007, I have curated exhibitions, given conferences and seminars.
I volunteer at HUG Culture https://hugculture.org/ and I'm a member of #artistsforfuturefinland https://www.instagram.com/artistsforfuturefinland/