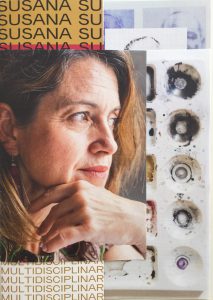 I am a Spanish and Finnish visual artist. She currently works on issues such as the relationship between the visual and the everyday, closeness, memories, identity, traditions, the position of women and ecology.
My works are based on the current socio-political situation and she used collaborative methods to obtain a multidisciplinary result and connect different fields.
I explore different solutions for the use of space through installations, work in public spaces, painting or murals. Creative interaction and activity in innovation areas interest me, therefore, I collaborate with artists and local people to achieve a plural artistic dialogue and investigate new fields of interaction between the arts, ephemeral works, multimedia and new technologies.
I use sustainable materials in my works dealing with issues related to these issues and I address this in my work as a teacher.
I am a visual art teacher at the Fine Arts at the Polytechnic University of Turku, Finland, I have curated exhibitions, given lectures and seminars.
I volunteer at HUG Culture https://hugculture.org/ and I'm a member of #artistsforfuturefinland https://www.instagram.com/artistsforfuturefinland/