Wall painting made of acrylic, dimensions 5.5 m wide by 3.2 high, located in the office of the rector of the Polytechnic University of Turku. ICT-talo, Joukahaisenkatu 3-5, Turku, Finland.
The project was carried out in collaboration of "artist-teacher" Susana Nevado with the students of the Department of Fine Arts: Emmi Länsmän, Jonna Halli, Maria Kivilaakso and Iiris Rusi.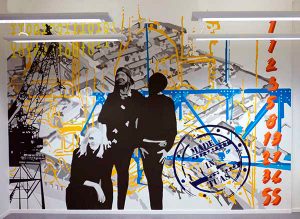 The mural collects different elements of the university, such as students, the historical map of the area, where the first buildings of the university are located, very significant architectural elements, etc.

The first departments and first buildings were dedicated to the training of midwives and, therefore, in the mural the silhouettes of two midwives with babies in their arms.
Other elements of the city of Turku also appear, such as the cranes of its famous old shipyards, undoubted symbol of its naval industry.
To the right of the work you can see the numbers of the Fibonacci succession 1-55 of the Mario Merz sculpture (1994), another distinctive element of the city.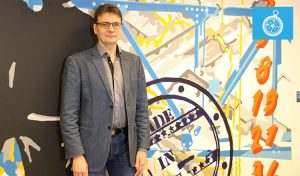 Vesa Taatila, Head Master of TUAS, Turku, Finland
In the upper left part, the binary succession representing new technologies, such as the internet, is repeated, and alluding to other technological branches there are architectural elements that recall factories or modern technology.