A SAUNA, A LAKE – BUT NO BIRCHES
The Art Camp RAPID stirred up a portuguese small town in a creative way
MATTI VÄLIMÄKI
A sauna, a lake and the moon. Something very familiar, something very Finnish, but at the same time something strange. The cicadas are chirping. The bath whisk is made out of olive branches!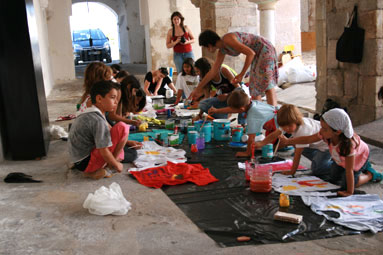 A FINNISH SAUNA was built in the small town of Avisi in Portugal last summer, as part of an international multiart community art project, RAPID. One of the programme numbers during the week was the great Mobile Performance, which took over the alleys and squares of Avisi by multiform music, dance, and visual art and film presentations. Five students from different fields of art and three artist lecturers from the Arts Academy at Turku University of Applied arts partook in the RAPID camp. They created different events in collaboration with their English and Portuguese colleagues. Also the townspeople, who were enticed into collective work on the arts events, had a central role.
– The city people made dolls for the puppet theatre, and even people who could not play, tried out different instruments. The sauna was a special attraction, and the most eager ones wanted one in their backyard, recounts the Arts Academy lecturer, visual artist Susana Nevado. Also Timo Varamäki, a student of Theatre Art, who participated in the Avisi RAPID event, was very pleased with it:
– It was great to see how we could, as a group, integrate with the local people so that the result was a grand ensemble. Also it was great to be able to do things together with artists from different fields.
– It gave a strong feeling of work in the arts branch making sense. Art helps to bring people together, says Timo Varamäki.
– Even though we could at times have linguistic difficulties with the Portuguese, art offered a common language and objective, Susana Nevado points out.
At the time of the interview, the RAPID project in England, Great Yarmouth is to take place in October. In the summer of 2009, the international RAPID camp will be arranged in Turku. RAPID is a project funded by the EU Culture Programme, which in Finland and Turku is administered and funded by the project unit of the Turku City Youth Centre. In addition to Susana Nevado, the lecturers from the Arts Academy who participated in the event in Portugal were sculptor Kari-Petteri Kakko and the puppet threatre artist Aapo Repo. The participating students were Timo Varamäki, Maija Linturi, Paula Salmikangas, Jonna Koivumäki and Aino Juutilainen.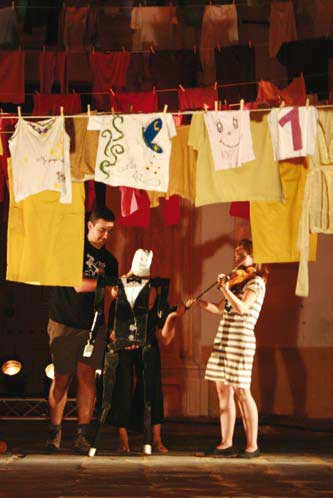 International Terminal
SUSANA NEVADO
Though I was born and raised in Madrid, travelling through international terminals has been a large part of my life. Years ago I decided to move to Finland where I have been living now for fifteen years.
I have been travelling since childhood as my father used to work for an airline. And because of these trips I came to realize that during the dictatorship of Spain the censorship and the prohibitions inhibited the country from progressing. In my youth I used to travel abroad in order to see how things were done differently in other countries. I got to know different kinds of people who spoke languages and had traditions that differed from ours. But all this became even more evident when I decided to come and live in Finland. Now I think I have made the two cultures mine and I belong to both of them.
In The Art Schools
(Photograph of The Faculty of Art in Madrid 1990)
I studied painting in The Faculty of Art of The University of Complutence of Madrid from 1987 to 1992. I remember how big the art classes were, full of easels and there were lots and lots of students (around 50 students per class).
In my art school drawing and painting were taught in the classic manner. For four years we drew sculptures and models with coal, and we also had classes of anatomy and technical drawing.
In our painting classes we were taught everything. In the first two years we were taught all the different techniques of painting. In the third year we tried all kinds of textures and brushstrokes. In the fourth year I also studied mural painting. In the fifth year I studied landscapes with a teacher who always used to say that "the ideas are not born in our heads out of nothing, but everything has its base in something real that exists around us". During the painting classes I also learned to keep abreast of the world of contemporary art.
What I most missed after graduating was an international overview on art, and so I thought it would be interesting to study abroad. In 1994 I did a postgraduate course in The School of Arts in Helsinki (Kuvataideakatemia). During my stay there I took note of the enormous differences between my art school in Madrid and the one in Helsinki. While in Spain I had to work in order to pay for my studies and for the material, in Finland I could just concentrate on painting, because I had my own studio, the painting materials were made available to me free of charge and I was being taught by known Finnish contemporary artists like Leena Luostarinen, Tommi Mäkelä, Lauri Anttila and Outi Heiskanen.
Kuvataideakatemia made it possible for me to get to know the Finnish system for teaching art, the artists' associations, the galleries, the system of scholarships etc.
Seen from the Outside
Identity between two cultures
When I arrived in Finland in 1993, I think I must have been one of two Spaniards living in Turku. The experience proved quite impressive and I felt an outsider to the surroundings in a way. Today there are many more foreigners living in Finland and there are lots of Spanish exchange students in Turku.

Living abroad I first kept pondering on how things were and on how things ought to be in both countries. The continuous comparison made me assume a slightly more critical approach to the country I come from and to the country I live in. In some ways I feel an outsider in both countries and because of this I am able to see things from the outside. There are certain things that always catch one's attention when one lives abroad:
- Teaching painting to Finnish youngsters I have realized that their ideas are very much connected to their culture, and that they see everything from within it. Therefore I think that one of the most important tasks for an artist is to see one's surroundings with a critical eye, introduce new ideas and ask new questions.
I tend to be rather insistent to my students of the necessity of international study and of the participation in international exhibitions.
The ability to see art from the outside or collaborating with foreign artists opens one's eyes and teaches one to see new ways of doing things. Being taught by foreign art teachers or visiting exhibitions of great international masters of contemporary art will also be helpful in this respect, I suppose.
Locality
I have worked on projects of social art with young immigrants and political refugees. What interests me is their position in their new environment, their attempts at integration, and what new things they could contribute to their home area etc. The majority of these projects are very complicated. It happens that the immigrants do not wish to commit themselves too much because their status in the country is uncertain, or because they don't have a work permit, or because they don't know if they should learn the language or not, and their past may be very, very tragic. This is the hardest side in the life of someone uprooted from his place of origin. As the coordinator of these projects I often ask myself if there is any "therapeutic" sense at all in them, and if they are of any help at all in such dramatic cases.
Language
Language is the key for being able to enter into any culture. Language is of essential importance. Apparently it is a world of signs that differs from the visual language, but for me it is part of everyday life: to understand and to misunderstand, to create new words in Finnish, stories that are understood differently depending on one's origins, the way in which one uses the language, the sounds, the multiple interpretations, the visual importance of a text combined with a picture, to say but not to explain. How many interpretations of one single sentence can we have? And how many of a picture?
Multicultural?
The word "multicultural" seems to be in fashion, everyone uses it without knowing very well what it means.
I come from a country that could, perhaps, be called "multicultural" because of its history. Arabs, Celts, Romans and French, amongst others, have all of them left their mark and part of their culture in the landscape, in the language, in the art and in the religion.
We should not forget that all that is new is always received with fear and scepticism. And in order to learn something new one should be prepared to relinquish at least a part of something of one's own, and this may, at first, be difficult for most people.
Outside Influences
In the past ten years Finland has received an increasing number of foreigners: exchange students, immigrants, political refugees etc. I personally think that another ten years and a lot more foreigners would be necessary to be able to see any outside influences about us in Finland.
This year I will participate as a coordinator in a project RAPID (Regeneration Artists Partnership through Intercultural Dialogue) 2008-2009. RAPID is being subsidized by The European Union and three European countries participate in it ( Britain, Portugal and Finland). Each country has appointed a head artist, two assistants and seven young artists (painters, musicians, actors, sculptors, makers of film and video etc.). Two camps will be organized, one in Avis, Portugal in 2008 and the other in Turku, Finland in 2009. The aim of RAPID is to give incentive for the intercultural dialogue between the three countries.
I think that the project is an interesting one and also difficult. It will cover three different languages, three cultures and different areas of arts (theatre, music, painting, sculpture etc.). What will be needed is the capacity to listen, negotiate and to be open to new possibilities. The interchanging of ideas, the pedagogical part and the social art part that the project comprises of make it most attractive to me.
It would be interesting to amplify RAPID in the future. Some countries from outside Europe could participate. After all, the whole Europe operates according to similar cultural principals. Almost any European would know that if we mix yellow and red we get orange.
Actually, we are same all

Bochum - Where space(area) is, are borders. However, they are overcome in the new exhibition with dreibundarchitekten.
RALF SCHÄFER
Room to move is the title of this art show which is opened today at 18 o'clock in the spaces(rooms) from max7, gallery 3-union, on Maxstrasse. Now seven artists and female artists from Bochum and Turku which had met in a similar project already last year in Finland issue their(her) works in the Bochumer gallery. Of part specially for it the made art which is busy with space(area), the definition of space(area), landscape and living space, but also with the emotions connected with it.
The works
Tobias Bülow pursues with his(its) pictures the dream of geeinten mankind which pines away today in the separatism. Parts of a whole, the world got(advised) from the joints(fugues) and the misjudged unities are his(its) subjects, at the same time, however, also the titles of his(its) surrealistic pictures.
Minna Sjöholm collects recollection fragments, paints pictures whose contents each has already seen. Recollections from rooms, snapshots of travelling, from stations of own life. She(it) goes to the question after " what and who I am in this world " after.
Barbara Tewes finds in their(her) mixing colleges of technology on paper also the subject Landscape, approaches this, however, about the definition of landscape and their(her) function for the people(persons) and his(its) feeling life.
In a completely different way, however, Maja Herenz "space(area)" has taken up in their(her) works. With her these are the fast pictures, the lighting up rush jobs and hardly nevertheless known photos to be recognized of sex Shops and red light announcements in newspapers. There are shown admissions in only shortly lighting up slide chests which have appeared in Bochum and Turku.
A space installation is a component of the work of Dirk Wenke. In Finland he(it) had arranged things and goods from Germany, in Bochum these are a Finnish crispbread and television(viewer) which are connected on the network.
Paula Ollikainen gives their(her) attention to the details, adapts the picture formats to the small things of their(her) surroundings on which she(it) steers the look. The look which changes the subject from the official views, the known facades and shows private sphere.
Similarly also the picture collages and objects of Susanna Nevado. Pictures from Germany, from families of 1931 to this day, motives " printed in germany " are joined with her to new works. She(it) "reminds" of these families, lets histories(stories) appear which will show arbitrarily and in the tenor that we are same all.
The result
The core of this art project can be circumscribed therefore that seven artists and female artists show successful, like unitedly, unlimitedly and in their(her) respective spaces(rooms) almost identically the people(persons) are. As well clearly becomes the insanity which lies in said separatist efforts. Only rarely an art meeting so intensely and can be experienced lastingly. - Ralph Schäfer
Room to move, a German-Finnish exhibition project from 17th February to 17th March, 9 Mo. Frs till 18 o'clock and after agreement. Maxstrasse 7.